April is a month of controlling nerves in World Football. It's a month where every point is critical to get, and each side looks to secure all three points in each game to reach their target spot as the tables get shaped up in late March.
Where every game is essential, several heavyweight fixtures are scheduled to occur this month. Moving forward, let's look at the top 10 high-voltage fixtures.
Bayern vs Manchester City (UCL QF - 11&19 April):
Bayern vs Manchester City has become arguably the most anticipated fixture in world football since the draws were made last month.
Bayern Munich and Manchester City are two of the top three best sides in world football now, and the fixture will surely bring nothing but thrill, a lot of action, and several magical moments by quality players on both sides.
Talking about Manchester City first, although they're not at the top of the Premier League table like in recent years, the difference is only 3 points which the Blues will be looking to end on 27 April in the potential title-deciding fixture.
In short, they're doing well in the league despite being second, are in the semi-finals of the FA Cup, and are scheduled to face Bayern Munich in the semi-finals of the Elite European Competition.
Manchester City has produced some crazy results in Uefa Champions League this season, last beating RB Leipzig by 7-0, with five of them scored by goal machine ErlingHaaland.
Manchester City has achieved everything since the arrival of Pep Guardiola except the trophy the club is looking to win for the first time. They were one 90 minutes away from the glory couple of seasons ago but lost against Chelsea by 1-0. That said, the Spaniard and his side will be looking to make this year one where they'll win their first Champions League title.
Bayern Munich is another top-performing side in world football. However, unlike their opponent, things could be more stable in Munich.
The inevitable finally took place, and one of the best managers in the world is now in charge of things for Bundesliga toppers. They're at the top of the league table but have yet to have the lead they're used to having.
Recently, they beat arch-rivals by 4-2 in De Klassiker but recently got knocked out of DFB Pokal at home against SC Freiburg.
On paper, Bayern Munich has one of the best squads in the world, with insane depth and every tool required to beat a side like Manchester City.
The first leg will be played in Allianz Arena on 12 April. Pep Guardiola's side will host the second leg. It's a fixture we believe no one would like to miss; it doesn't matter whether you support any of these clubs.
AC Milan vs Napoli (UCL QF - 12& 18 April):
As it's the last eight stages of the Elite European stage, only the top sides remain in the tournament. As there are no more country restrictions from this stage, two top-performing Italian sides will battle for glory in another quarter-final.
Talking about AC Milan first, defending champions lie fourth at the Serie A table but hammered past league toppers in the league fixture by scoring four against them. However, they dropped two points in their next fixture against Empoli in a goalless draw couple of days ago and would like to regain the momentum with another win over arch-rivals.
Napoli is bossing the Italian league with 16 points above second-ranked Lazio. However, out of their three defeats in Serie A this season, two have come in the last five fixtures. With 16 points lead, they're not worrying much about the title but about improving in certain areas before going to the big game, where revenge would also result in their minds.
AC Milan will host the first leg on 13 April. Meanwhile, the second leg will be played at the stadium of Serie A toppers on 19 April.
Manchester City vs Arsenal (Premier League - 26 April):
27 April is when the Premier League title of this season will be decided, as the top two sides from the table will see each other in a mouth-watering fixture.
Arsenal currently sit at the top of the table with 6 points but has played one more game. They crumbled in between but did incredibly well to maintain their top spot and will like to see the title from here. The fixture will decide the potential winner; if Arsenal wins the fixture, they'll take the trophy home.
Manchester City is six points behind their opponent, supposing they win their postponed fixture against Brighton, a win over Arsenal will equal their points, and Manchester City will become the favourite to win the title as they're the side with a better goal difference.
Arsenal has comparatively tough fixtures to play in the coming weeks, making the case stronger for Pep's side.
Tottenham Hotspur vs Manchester United (Premier League - 27 April):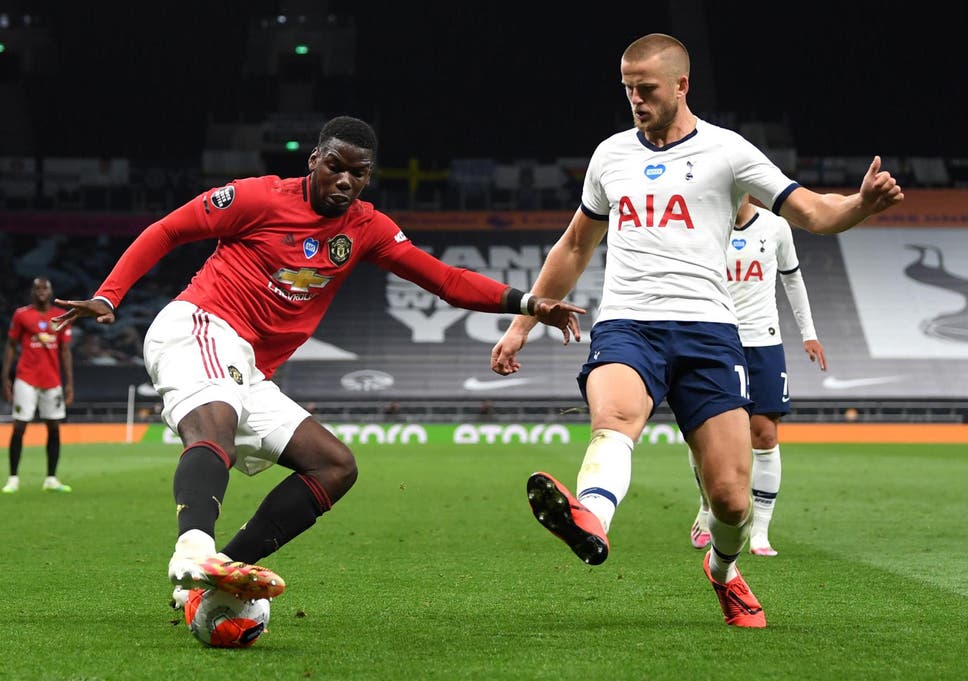 Two sides will be meeting to battle for the Champions League spot. Manchester United currently sit fourth at the top of the table with 56 points in 29 games and would like to finish in the top four this season to qualify for the Elite European competition.
Fifth-ranked Tottenham Hotspur are struggling with more off-the-field issues than on the field. They sacked Antonio Conte and are looking for a permanent manager after appointing an interim manager till the end of the season.
Both teams have 3 points difference, and United has one more game in hand, making them the favourite to end in the top four. However, in football, everything can happen, and there is no doubt Tottenham can finish above United and would like to start with a win against them.
Liverpool vs Tottenham Hotspur (Premier League - 30 April):
Two permanent residents in the top 6 will take on each other, with a Champions League spot at stake.
Tottenham Hotspur currently sits fifth at the table but could be doing better, more since the departure of Antonio Conte; however, the first good half of the season has abled them to still sit in the fifth spot.
They have a fixture against Manchester United and this one against eighth-ranked Liverpool. If they win both games, they'll have a solid case to finish in the top 4.
Liverpool, who started the season in the worst way possible, produced good results in between before another poor run of form. However, they have done well in recent fixtures and now sit eighth at the table.
They have been drawn against Chelsea and Liverpool in the past few days and would like to add the final touch of taking the game away, and with the squad, they have (with injured players to return), they indeed can finish in the top 4 this season.